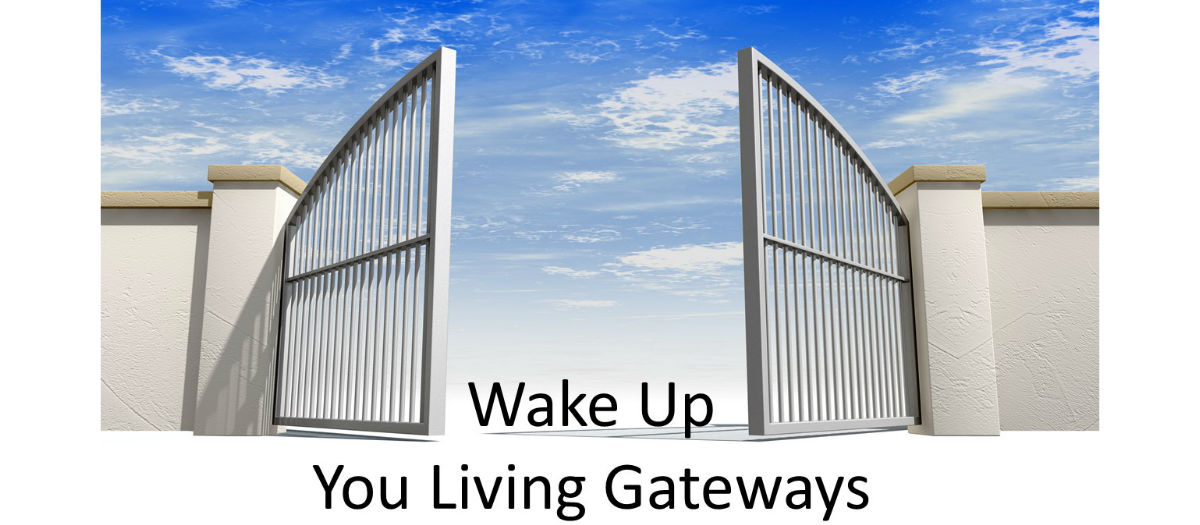 by Roger Lehman on
December 10, 2018
Wake Up, You Living Gateways

"7 The angel struck Peter on the side to awaken him and said, "Hurry up! Let's go!" Instantly the chains fell off his wrists. 8 The angel told him, "Get dressed. Put on your sandals, bring your cloak, and follow me." 9 Peter quickly left the cell and followed the angel, even though he thought it was only a dream or a vision, for it seemed unreal—he couldn't believe it was really happening! 10 They walked unseen past the first guard post and then the second before coming to the iron gate that leads to the city—and the gate swung open all by itself right in front of them! They went out into the city and were walking down a narrow street when all of a sudden the angel disappeared. (Acts 12:7-10 TPT)
As we are entering into 2019, I'm seeing the Holy Spirit highlighting a certain theme to me: It's the opening of divine, strategic gates. The text above sort of encapsulates this theme. Peter, an apostle, (who is a "living gate") supernaturally enters a physical city gate; because an angel came, awakened him, released him from his chains, and from prison.
In these days there are many "living gates" who are asleep in prison. The enemy has targeted them and bound them up with discouragement, depression and other circumstances beyond their control. But "harvest" angels are now being sent to awaken them for such a time as this. This is the time of the greatest harvest the world has ever seen.
Peter, not knowing if he is experiencing a vision or if it's an actual occurrence, follows the angel pass guards to the huge iron gate that leads to the city. The gate swings open all by itself right in front of them.
While our cities today are not surrounded by stone walls or entered into through iron gates, we do have "city gates". Strategic access to the millions living in our cities and regions may be found in the city's government, main stream media, arts and entertainment, our city's universities, etc. In these days the Lord of glory is beginning to call out to living gates to wake up, because He's ready to come through them.
7 So wake up, you living gateways!
Lift up your heads, you ageless doors of destiny!
Welcome the King of Glory,
for he is about to come through you.
8 You ask, "Who is this Glory-King?"
The Lord, armed and ready for battle,
the Mighty One, invincible in every way!
9 So wake up, you living gateways, and rejoice!
Fling wide, you ageless doors of destiny! (Psa. 24:7-9 TPT)
Many don't realize that the baby Jesus, born in a manger is now armed and ready for battle. Nor do they realize that the Jesus who hung and died on a cruel cross is invincible in our world today. There is no gate too difficult for him to open.
These living gates that I'm talking about are twofold. Some of these living gates are people – individuals. You may be one of them and don't know it yet. The king wants to come through you to reach a huge harvest but presently you may be bound and spiritually asleep. Over 3,000 years ago God sent an angel to a living gate called Gideon. He was awakened by an angel and set free to deliver Israel (Judges 6). If God could awaken Gideon "the least in his father's house" he can awaken you.
Another dimension of a living gate is what the scripture calls an ageless door of destiny. I think we could all agree that Jerusalem, is an ageless door of destiny. Jerusalem is "physical" Zion, a strategic place on earth where God set in motion His plan of salvation for the entire earth. There is so much more destiny yet to unfold in this great city. Watch her and pray for her.
I believe there are other ageless doors of destiny we need to be watching and praying for in these days of harvest. I know that I'm one of many called as a watchman over NYC. Since I'm very familiar with this gate I will now talk briefly about her.
NYC played an important role in both the first and second great awakenings. In 1739 George Whitefield began a major revival tour. He journeyed horseback from NYC to Charleston preaching almost every day to thousands. Only God knows how many lives were transformed as this living gate was swung wide open for the King of glory.
During the second great awakening, NYC again became known again as an ageless door of destiny. Revivalist Charles Finny established the Broadway Tabernacle in 1824 and Jeremiah Lamphier sparked the great Fulton Street Revival in 1857.
This prayer revival began in a rented hall on Fulton Street, Manhattan with 6 attendees on a Wednesday lunch hour; but within 6 months it ballooned to daily gatherings of 10,000 business men (out of a population of 800,000). By 1858 there were at least 20 other daily prayer meetings going full tilt in New York. The same year this prayer revival spread to Philadelphia, Chicago, and other major cities in America with gatherings numbering as great as 10,000. The spiritual landscape in Colonial America was quickly changing bringing much needed societal reformation. This revival sparked in New York City had worldwide impact. The revival spread to Ireland, Scotland, Wales, England, Europe, South Africa, India, Australia, and the Pacific islands.
I could also mention healing revivalist, A B Simpson, who established Gospel Tabernacle in Times Square around the turn of the 20th century, Billy Graham's massive evangelistic crusade in Madison Square Garden 1957, David Wilkerson's Teen Challenge ministry and other revivalists in NYC who sparked moves of God. But I only want to encourage you to you to watch the gates in your region that the Glory-King had walked through in the past. I believe that He's ready to do it again. Get ready to prophesy to the gates in your region. They will fling wide open to the One armed and ready to battle. The battle is for none other than the great end-time harvest.
Most of all, my friend welcome King Jesus fully into the gate of your heart. Consecrate yourself as never before. These are strategic times. There is no telling what He can do with a heart fully yielded and passionately in love with Him.
back