You Don't Have Many Fathers
by Roger on
October 29, 2018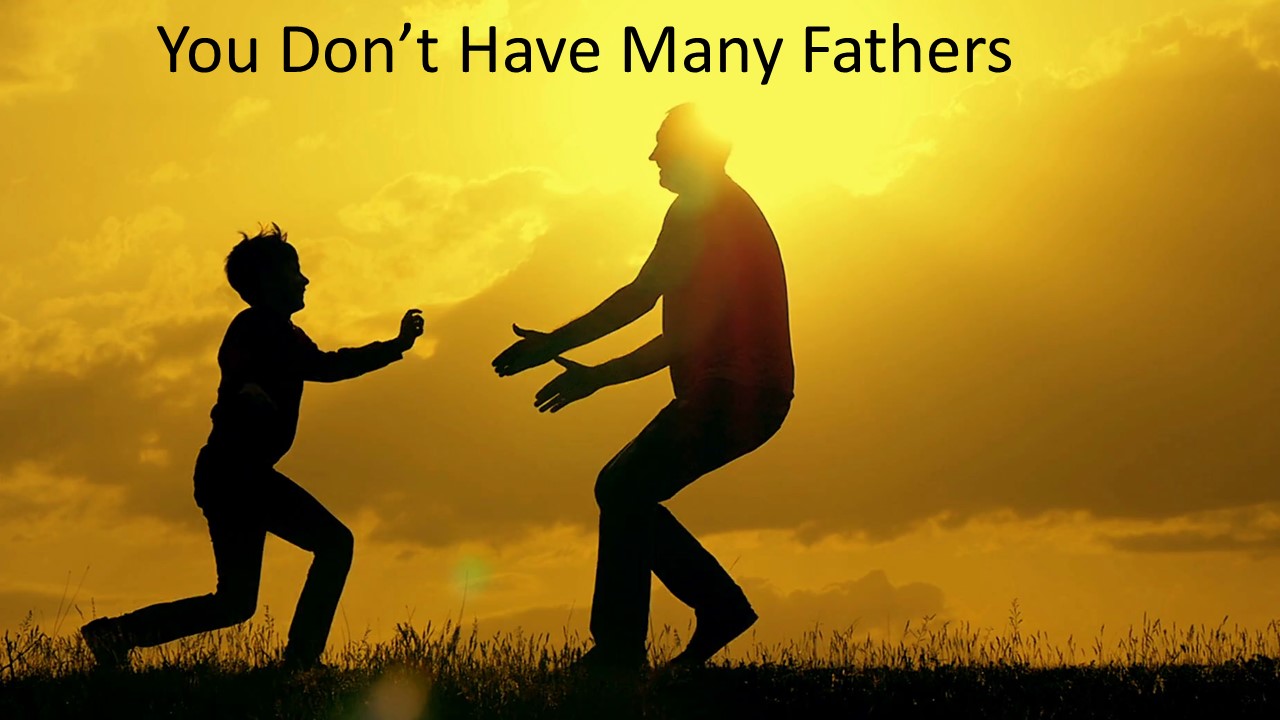 The Apostle Paul told the Corinthians "even if you were to have ten thousand teachers [to guide you] in Christ, yet you would not have many fathers [who led you to Christ and assumed responsibility for you]…" (1 Cor. 4:14 AMP)
I've heard it often said, "The greatest wound in America is the father wound" and I agree. 35% of children under the age of 18 live in a single parent home and that single parent is almost always the mom. Fatherlessness among certain minority groups in the inner city reaches as high as 60%. 18 million children are growing up without a father figure. These numbers of course don't take in account the fatherlessness that many children experience with a father who is abusive or emotionally disconnected. I won't take the time here to share statistics of the toll fatherlessness takes on mental and social health, and success in general. But it's stunning.
The good news is that the community of God's people and the gospel they proclaim has the potential to heal that father wound in America. One doesn't need to search far to find testimonies of wounded ones who where healed by our Heavenly Father's love being expressed through the Holy Spirit and the body of Christ.
Yet it's my observation that far too many Christians have never genuinely experienced what it's like to have a real spiritual father or mother. I've thought about this a lot and I think that part of the problem is that the wineskin structure of the American church is lacking. There are a lot of teachers but far too few fathers. But I hear the Holy Spirit saying, that He's bringing us a new wineskin that won't crack. This new wineskin will be able to contain the wine of awakening that's coming.
"He will turn the hearts of the fathers to their children and the hearts of the children to their fathers" (Mal.4:6). This verse speaks of the biological family, but it has great Spiritual implication. There is a moving of the Holy Spirit over the body of Christ these days. In that move are new desires in God's people to become spiritual moms, and spiritual dads. There are also new longings in the hearts of many to connect with a real spiritual parent. God's people are looking for more than good sermons, or a good Christian book. They are looking for good spiritual parents who will cover them and lovingly hold them accountable. I thank God that good anointed teaching has never been more available. But real moms and dads are not so available.
Why are teachers so much more available than Fathers? That's not difficult to understand. A great teacher can put a video teaching on facebook and instantly have thousands around the world connect to receive the revelation. But that doesn't make him a father to those thousands. An itinerate Apostolic or Prophetic teacher can be traveling all over the world ministering to tens of thousands but have only a few real spiritual children.
In most biological homes there are 2 or 3 children. A home of 12 children is rare. Could any mom or dad adequately raise more than 12? It's expensive to raise kids, not just financially but because of the time and energy that that it demands. However, moms and dads do it gladly because of the huge rewards.
Spiritual parenting likewise is both expensive but very rewarding. Yet I wonder how many Christians even know that they can be a spiritual mom or dad. How many know a godly person who would take an interest in them to feel at least somewhat responsible for their Christian growth. Do you know someone who prays for you daily or covers you spiritually? Do you do that for someone? How many Christians feel their pastor has all that covered? Can a pastor of a church of several hundred people have the time and energy to do that for each one in his flock? I don't think so.
In the first century, churches were mostly house churches. They regularly came together to share meals, worship, pray, study the word, and fellowship. In these gatherings not only did everyone became friends with one another they became spiritual families. There were moms, dads, brothers, sisters, and children. Relationship intensive church worked well. Many historians believe that nearly half of the Roman Empire had become Christian by the 3rd century.
I see a new emerging wineskin that will be so much more than 200 people gathered as an audience in an auditorium to listen to a talented music band and a professional seminary trained Bible teacher for 90 minutes and then go home to assume that their Christian duty is done for the week. I see spiritual families springing up gathering in homes, dorm rooms, at places of employment and the like. They share their hearts with one another. They cry together, laugh together, and look out for each other. They assume responsibility for each other's spiritual well being. But most of all they grow together – rapidly. God is placing us in families. In healthy spiritual families we heal, become healthy and we grow up quickly to become more like Jesus. Who is your spiritual dad/mom?
back